Interested in making regular visits to members of Congress?

Stay vigilant as Senators look for ways to act on healthcare!

Millions are still at risk of losing their healthcare as Senate leaders hold onto their desire to repeal and replace the ACA. Urge your senators to support bipartisan efforts to fix the ACA and increase access to quality, affordable healthcare.
About Us
Vision: We envision a peaceful, just, and environmentally sustainable world.

Mission: Our mission is to mobilize and amplify the voices of Unitarian Universalists in the National Capital Region (NCR) as we seek to change the world through acts of love and justice.

Our priority issues (see Priorities Menu above) are:
Escalating Income Inequality Climate Change and the Environment Immigration
Get Involved & Take Action
Sign up as a volunteer You will help amply our UU social justice voice.

Sign up for our monthly eNews This is the best way to learn about other area social justice events and programs.

Join UUSJ Take part in advocacy and witness opportunities to bring critical social justice issues to the attention of policy-makers by joining UUSJ.
Advocacy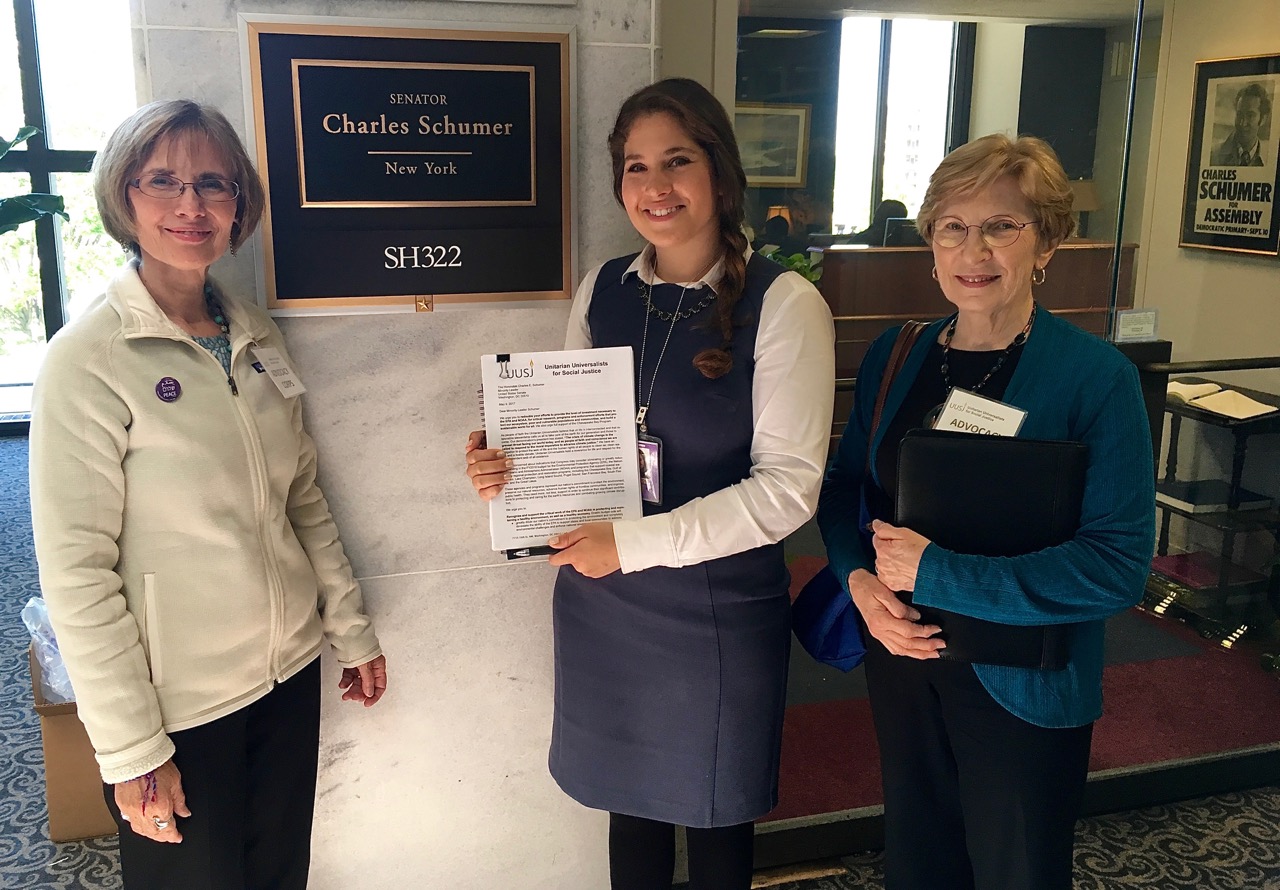 Members of the UUSJ Advocacy Corps delivered petitions to Sen. Schumer's staff on Tuesday, May 8 as part of UUSJ's monthly Advocacy Days.
Commentary
"The Importance of Being 'Prideful'" By Gerda and Allen Keiswetter, UU Church of Arlington, VA

Imagine thousands cheering because you love your child. We have been marching in the Capital Pride Parade since 2005 to celebrate our transgender son Asa. It is a spiritual high each year for us. The street crowd is amazing — LGBTQ people and straight people of all ages, singles and families, babies to grandparents of all races and ethnicities. The mood is always intensely positive, and the love is palpable. Shouts and even hugs from parade watchers are common.

The UU and PFLAG groups usually co-mingle as they march next to each other. For some lining ...