Interested in making regular visits to members of Congress?
About Us
Vision: We envision a peaceful, just, and environmentally sustainable world.

Mission: Our mission is to mobilize and amplify the voices of Unitarian Universalists in the National Capital Region (NCR) as we seek to change the world through acts of love and justice.

Our priority issues (see Priorities Menu above) are:
Escalating Income Inequality Climate Change and the Environment Immigration
Get Involved & Take Action
Sign up as a volunteer You will help amply our UU social justice voice.

Sign up for our monthly eNews This is the best way to learn about other area social justice events and programs.

Join UUSJ Take part in advocacy and witness opportunities to bring critical social justice issues to the attention of policy-makers by joining UUSJ.
Advocacy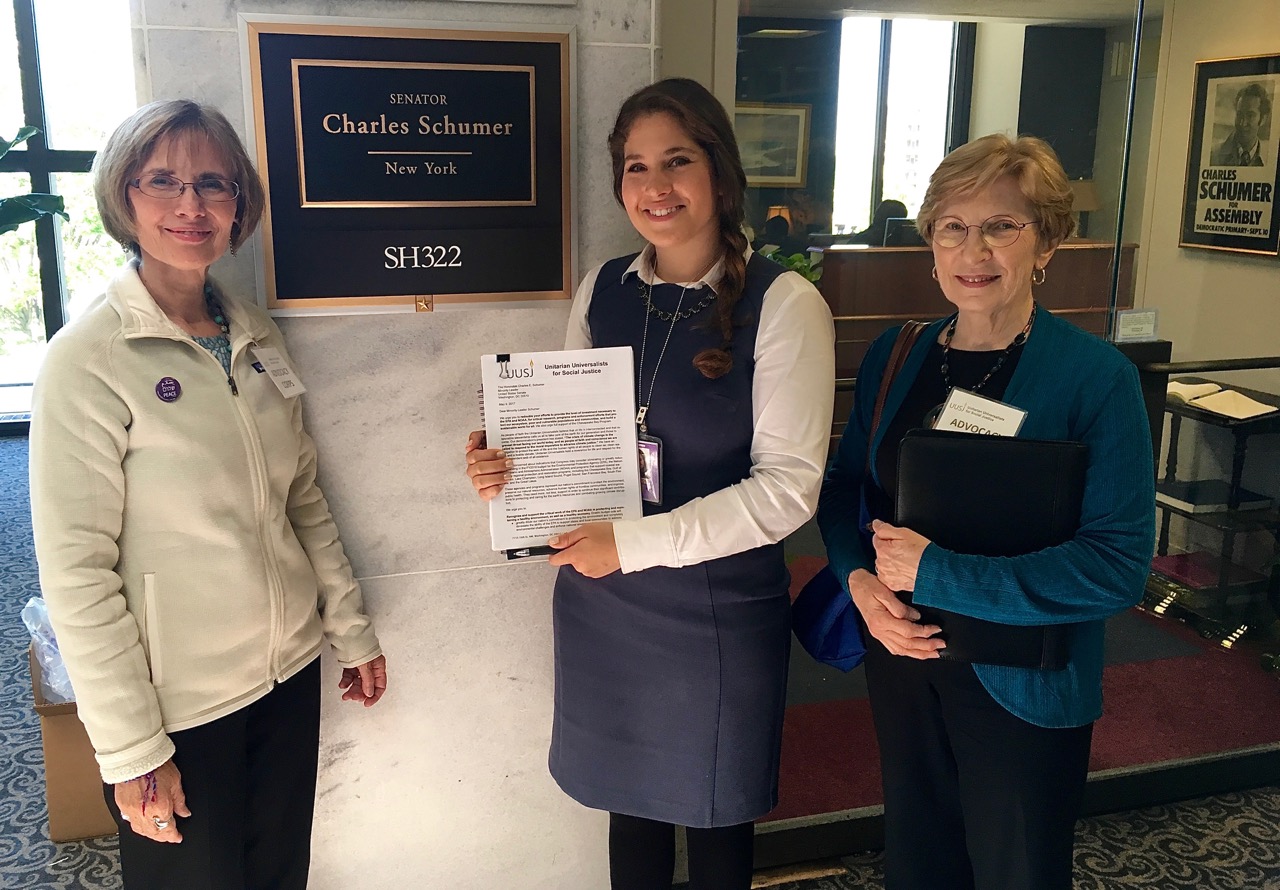 Members of the UUSJ Advocacy Corps delivered petitions to Sen. Schumer's staff on Tuesday, May 8 as part of UUSJ's monthly Advocacy Days.
Commentary
"Taking Note" by the Rev. Dr. Kate R. Walker, Mt. Vernon Unitarian Church

This is adapted from my February newsletter column looking at how to be in covenantal relationship in a time of strong emotions around the new President of the U.S.

It is easy to assume Unitarian Universalists did not vote for Donald Trump. After all, UU progressive values: immigration issues, equality for GLBTQAI, women's rights, diversity of race, ethnicity and religion, accessible and affordable health insurance, and support for people of different physically abilities (to name some), do not align well with many things that Trump has said and policies he proposes. But the assumption is wrong.

While no one has come to ...