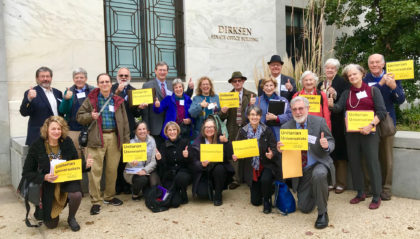 Join an information session on the UUSJ Advocacy Corps. Our Advocacy Corps makes regular visits to Members of Congress and their staff on priority issues of immigration, climate change and the environment, and escalating income inequality, among other UU issues. The UU voice on federal policy is critical, needed now more than ever in these turbulent times. Join the UUSJ Advocacy Corps and help make the UU voice heard on Capitol Hill!
Join one of the following online information sessions to learn more:
Saturday, February 3, 10:30-11:30am (completed)
Sunday, February 11, 7:30-8:30pm (Register)
Details on how to access each information session via Zoom is below.
Contact: advocacy@uusj.org
---
Sunday, February 11, 7:30-8:30pm
Join the Zoom meeting from PC, Mac, Linux, iOS or Android: https://zoom.us/j/916642819
You should be at a laptop, computer or mobile device with a camera and Internet access to participate. Plan to sign in early to ensure you have ample time to download the Zoom platform, if necessary.
You may also join by phone, if you prefer.
Dial: +1 669 900 6833 or +1 646 558 8656
Meeting ID: 916 642 819