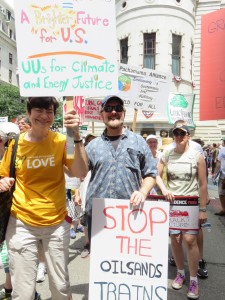 Recap: Clean Energy March, July 24
By Christiane Graham, Cedar Lane UU Church, Bethesda, MD
UUs were well represented in Philadelphia at the Climate March prior to the Democratic Party Convention. We made our voices heard asking for real Climate protection legislation. It was heart-warming to see so many UUs courageously walking under the boiling sun. The synergy between young and old, Black, Asian, Hispanic people demonstrating together was uplifting. Many voices were asking for a livable planet, while wildfires raged in California and water shortages all over the world have created crisis situations. Together we made a commitment to ask for Climate Change legislation from our representatives on town, city, county, state and the federal level. One tool: the tax and dividend approach is a progressive, revenue-neutral tool for a real shift to renewable energy.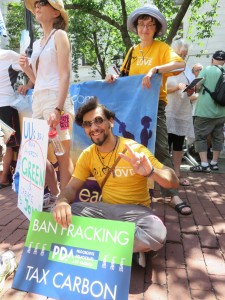 I was struck by our UU's perseverance, strength and commitment to saving this beautiful Earth and future generations from serious Climate Change impacts. Some of the great, personalized posters were generated by UU participant. We smiled, walked and shouted slogans together. It may not be your cup of tea to demonstrate, but the feeling of exuberance and hope was palpable. A minute of silence for dead climate warriors was observed. The daughter of Berta Caceres, a Honduran Elder who was recently murdered for her climate and human rights work, spoke eloquently about her mother's courage and strength even when her life was threatened. She inspired us to continue the fight for the future of our children and grandchildren.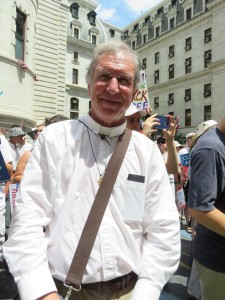 During our time together I realized that we share in our profound losses. Black Lives Matter represented the loss of fathers, mothers, sisters, brothers. The LGBTQ community has lost so many members to violence and incurred so many permanent emotional and physical injuries. I am grieving for First Nations and poor communities that have been disproportionately burdened with pollution and illnesses. I also grief for the silent ones that are lost daily, thirsting for water or drowning around this planet due to climate change.