Medicaid Work Requirements Jeopardize Health and Financial Security and of Millions of People
updated: February 11, 2018

Call your Members of Congress – U.S. Capitol Switchboard: (202) 224-3121
Outreach to governors is especially important in these states where waivers are pending:
AR, AZ, KS, ME, MS, NH, UT, and WI
Find your governor's phone number here.
---
Page Contents (click on a title to go to that section):
---
Action Needed NOW: What You Can Do

1 – Write letters to your US Senators. 
Organize a Write Here! Write Now! letter-writing table in your congregation for letters to be delivered to SENATE offices in Washington, DC.
The UUSJ Capitol Hill Advocacy Corps will deliver letters received by mail and email by 12pm ET February 12. Send an email to advocacy@uusj.org for more information or to make arrangements for later deliveries. It is essential that each letter include the name, street address and zip code of the constituent.
2 – Contact both of your Senators, your Representative and your Governor.
It is especially important to contact governors in these states that have waivers pending: AR, AZ, KS, ME, MS, NH, UT, and WI.
NOTE: Requests for waivers to Medicaid rules, such as adding work requirements, originate with the states. They then have to be approved at the federal level by the Department of Health and Human Services.
To have the most impact, it is important to make our voices heard at the state level with governors and state health administrators. UUSJ does not work at the state level directly; instead works with members of Congress who have influence in key states. Congress will be considering workforce development legislation soon, which may mandate new restrictions.
See below 10 Things to Know about Medicaid to add your own talking points.
Suggested message to adapt for an email message or phone call:
Hi, my name is [your name] I'm a constituent from [city, state]. 

I am a Unitarian Universalist from (name of congregation and location). Guided by my faith, I believe that access to affordable, quality healthcare is a human right.

(for US Senators and Representatives: I urge you to oppose attempts to add work requirements to the Medicaid program.)

(for governors: "I urge you not to apply for a waiver to add work requirements for Medicaid beneficiaries.") 

Adding the hurdles of repeatedly documenting work and other administrative requirements, and penalties, will cause many eligible people to fall out of the system. This would jeopardize the health and financial security of Americans and put children at risk if their parents lost their health benefits. People are more likely to get and hold a job when they are healthy, not the other way around.

Stay true to the intent of the Medicaid program to provide health coverage to families and individuals in their time of greatest need. 

Thank you.

Virginia:
Sen. Mark Warner (202) 224-2023
Sen. Tim Kaine (202) 224-4024
Maryland:
Sen. Ben Cardin (202) 224-4524
Sen. Chris Van Hollen (202) 224-4654
U.S. Capitol Switchboard: (202) 224-3121
To find Congressional e-mail addresses and contact information for your governor or other information, visit these websites:
3 – Ask your friends and family members to contact their Senators, Representatives and Governors, too.
Send them the link to this page – http://uusj.net/wp1/support-medicaid/
4 – Spread the word – Post messages to social media (Facebook, Twitter, etc.).
Include the link to this page – http://uusj.net/wp1/support-medicaid/
Hashtags – #Medicaid, #SaveMedicaid, #MedicaidMatters
For more information, see the UUSJ sample message and talking points.
---
What You Should Know
For more information, see the UUSJ sample message and talking points.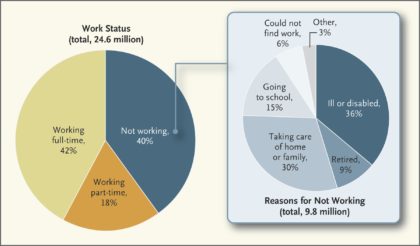 Under the Trump Administration, new rules for Medicaid programs managed by the States are being implemented. States can request waivers of current rules to undertake demonstration projects for new requirements that purport to improve the system, reduce costs, and place a focus on personal responsibility by Medicaid beneficiaries. Some states, as well as policymakers, are seeking mandatory work requirements for all Medicaid recipients except those exempt due to illness, disability, or in select programs. Most adult Medicaid enrollees do work or go to school or are too sick to work, studies show. Research does not indicate that working causes good health, but evidence shows that Medicaid helps improve health and makes it easier to find and keep a job, or volunteer in communities.
Proposed changes to Medicaid to require work and add administrative requirements are in direct conflict with the core purpose of Medicaid — to provide medical assistance to low income people. Medicaid provides healthcare coverage; it is not welfare.
The great majority of Medicaid recipients already work; most that don't are ill or disabled, going to school, taking care of home or family, or retired.
Two states (KY and IN) have already received approval to add work and other requirements; AR, AZ, KS, ME, MS, NH, UT, and WI are seeking approval of the same.
Work requirements for Medicaid recipients will remove benefits from many who are ill, disabled, or caring for family members.
Other changes include "lock-out" provisions so that those who do not meet new work requirements will not be eligible to resume coverage for six months after they complete a "re-determination process" leaving them vulnerable to health and financial risk
Slashing Medicaid will undermine efforts to curtail the opioid crisis, which killed 42,000 Americans last year. Medicaid covers nearly 4 of 10 nonelderly adults with opioid addiction. See here for infographic.
---
Medicaid, signed into law in 1965 by President Johnson, is a joint federal/state health insurance program that covers low-income populations with limited resources and often complex health needs. The federal government provides matching dollars to states for allowable spending on Medicaid, and states design and administer their programs within a set of federal standards and broad state options. Beyond these options, the Secretary of Health and Human Services (HHS) is authorized to waive certain program requirements and to provide federal Medicaid funding for options not otherwise allowed under law for approaches the Secretary determines promote the objectives of the program.
Thirty-three states and the District of Columbia opted to expand their Medicaid programs under the Affordable Care Act. These program expansions have improved coverage; access to care, utilization, affordability, and health outcomes; and had positive economic outcomes. (The Effects of Medicaid Expansion under the ACA)
Yet, there is significant uncertainty regarding the future of the Medicaid program. The Trump Administration and Republican leaders in Congress have called for fundamental changes that would limit federal financing through a block grant or per capita cap, and reduce federal standards and increase state flexibility. The changes they seek include a roll back of the Medicaid expansion, caps on federal Medicaid spending increases, and added work requirements, drug testing, time limits, copays and premiums to some state Medicaid programs.
In order to test Medicaid changes, states can submit Section 1115 waiver requests to the Department of Health and Human Services. Some requests are designed to expand eligibility. Others impose restrictions, work requirements and restrictive penalties on Medicaid recipients. Kentucky and Indiana have been granted waivers that generally require beneficiaries to verify their participation in approved activities, such as employment, job search, or job training programs ("community engagement"), for a certain number of hours per week in order to receive health coverage. Eight other states have submitted similar waiver requests (AR, AZ, IN, KS, ME, MS, NH, UT, and WI).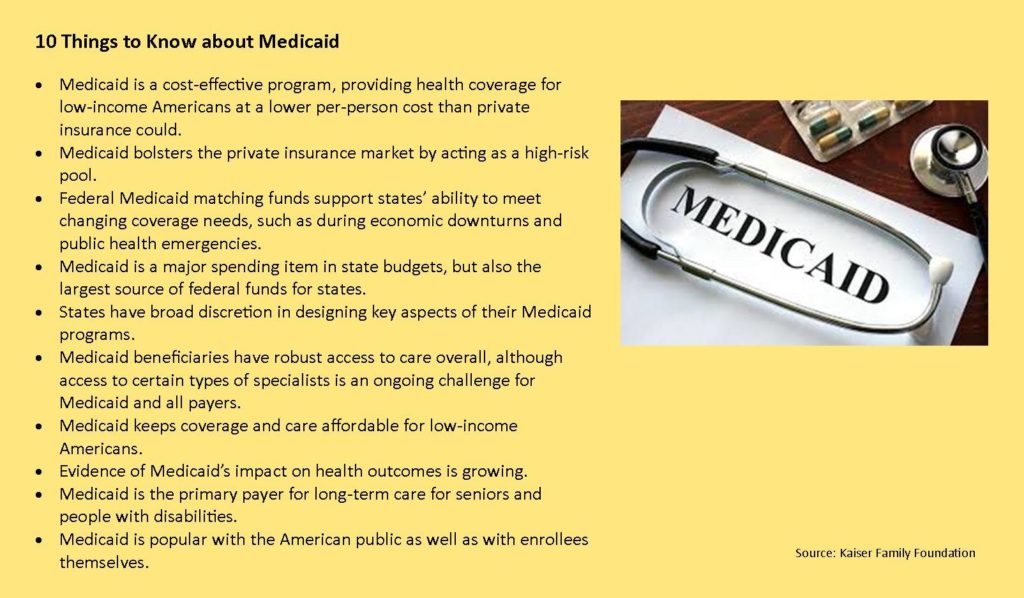 ---
Our UU Spiritual Grounding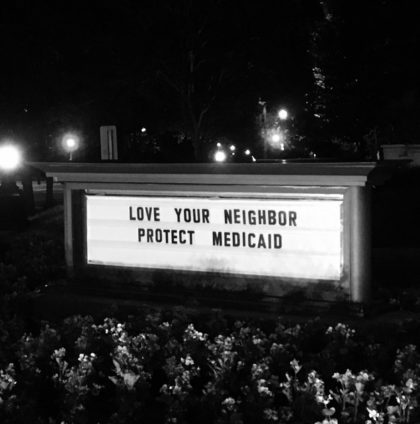 UUs are committed to promote policies that address the inequities in our economic mainstream and assure that all individuals have access to affordable, high-quality health care.
Based on our Religious Principles, we:
believe in a national health care system that provides quality care, accessible and affordable to all;

oppose attempts to reduce the access or quality of Medicaid given its significant role as the primary health care option for our country's most vulnerable populations;

oppose attempts to jeopardize the healthcare infrastructure now in place under ACA;

urge protection of mandatory essential benefits. A specific concern is women's reproductive health coverage and access to healthcare as provided for in the ACA;

insist on a democratic process that is open and transparent when legislating healthcare.
UUSJ believes that work requirements and other means to reduce access to Medicaid coverage represent a serious set-back to improving health, especially for those who are least able to afford healthcare. We believe that good health contributes to the ability to get and hold a job, and that administrative barriers to access, including work requirements and fees with restrictive penalties for those who cannot afford to pay or who missed premium payments, are a violation of the purpose of Medicaid and should be resisted as counterproductive. The threat of loss of healthcare coverage, with the resulting risk of untreated illness, disability, death or financial ruin, should not be used as a lever to change behavior.  
---
Resources and Relevant News Media Coverage Links