People of faith will join students, workers, parents, and people on the front lines of climate change for a major climate justice mobilization right here in DC. Faith group coordination is being arranged by GreenFaith and Interfaith Power & Light (DC.MD.NoVA).
Join UUSJ's UU Green Activists listserv to stay up-to-date on future climate justice and environmental efforts and events. Email Elizabeth at info@uusj.org.
March for Climate, Jobs, and Justice
Saturday, April 29
9:00am-12:00pm: UUs gather for breakfast, rally, and worship at Cafe Fifty-Nine, 409 3rd St SW, 20024 (Federal Center SW Metro). This is also an opportunity to pick up signs, take statement photos, meet and greet with UUs across the country, organize, and prepare for the march. Worship is at 10:30am.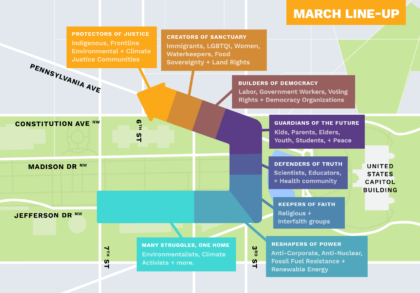 11:00am-12:30pm: Find fellow UUs with the "Keepers of Faith" (religious and interfaith groups) in the lineup between 11:30am and 12:30pm. UUs are encouraged to wear Standing on the Side of Love shirts and/or other Unitarian Universalist attire and to bring signs, flags, banners, etc.
Our March Starting Location: 3rd St NW between Madison Dr NW and Jefferson Dr NW
Learn more about the march line-up.
12:30pm: March kick-off: we'll begin marching up Pennsylvania Avenue towards the White House.
2:00pm: When we reach the White House we will take collective action by surrounding it — as a simple, effective reminder that the power of the people is greater than the people in power.
3:00-5:00pm: We will reconvene at the Washington Monument grounds to connect and share the stories that brought us to DC. We'll hear from the front lines of the climate crisis and share solutions rooted in our own communities. There'll be music and beautiful art from around the country — and we'll assemble our art into one collective message of resistance.
Learn more details about the march schedule, what (not) to bring, accessibility, and parking/metro info on the PCM website.
After the March
Saturday, April 29
4:00-8:00pm: UU After Party, All Souls Church, Unitarian, 1500 Harvard St. NW @ 16th St, 20009 (Columbia Heights Metro)
RSVP (& volunteer!)
There will be live Caribbean Music of the High Energy Group on the All Souls Terrace with food trucks on site. Come to relax, meet new friends, and build the UU Climate Justice movement and UU Climate Action Team.
Sunday, April 30
9:30am or 11:15am: Sunday Services, All Souls Church, Unitarian, 1500 Harvard St. NW @ 16th St, 20009 (Columbia Heights Metro)
RSVP (& volunteer!)
Guest preacher: Johnnie Aseron, Inter-National Initiative for Transformative Collaboration, coordinator of wellness and inter-faith events at Oceti Sakowin Camp on the Standing Rock Reservation, North Dakota Access Pipeline
12:30-1:30pm: Vegetarian lunch ($12) & fellowship on the All Souls Terrace (Order in advance.)
1:30-4:00pm: Panels/Discussion/Letter-Writing/Movement Building – UUs together with Leaders from Front Line Communities, All Souls Church, Unitarian, 1500 Harvard St. NW @ 16th St, 20009 (Columbia Heights Metro)
Panel: Johnnie Aseron, UUA Rev. Karen Brammer, Multicultural Growth &Witness, Green Sanctuary
Program with Other Community Justice Leaders – TBA
Advocacy Opportunities
Art Builds!
Stop in during one of the following times, to help create flags, parachutes, and protest artwork for the UU presence at the People's Climate March:
Wednesday, April 26,
4:00-8:00pm
All Souls Church, Unitarian
RSVP
Art build and sign making
Thursday, April 27
12:30-8:00pm
All Souls Church, Unitarian
RSVP
Dinner and Worship will be 6:30-8:00pm Art build and sign making, community dinner and worship, followed by one more hour of arts and sign preparation.
Resources
Updated as of 2017-04-11