Mobilizing for the 2016 Elections
UUs are engaged in Voting Rights & Mobilizing for the 2016 Elections
The April Democracy Spring and Democracy Awakening activities energized UUs and provided a platform for action to eradicate injustice in our society.
As we head toward the 2016 general elections, we have opportunities to keep the momentum going through participation in Get Out the Vote activities and engagement with candidates running for public office.
UUSJ co-sponsored a voting rights webinar on June 1 with UUA that addressed faithfully strengthening democracy, registering voters, Getting out the Vote, protecting voting rights, election protection, speaking out on our values, and developing community and congregational partnerships. View the webinar below or on the UUA website.
Voting Rights & Mobilizing for the 2016 Elections
UUA Webinar Video
Download the accompanying power point slides.
---
What Your Congregation Can Do
(alone or in collaboration with UUSJ and other partners)
Register voters
We can assist people by helping to make sure they are eligible, registered and ready to vote on election day. Voter registration drives are about registering new voters and re-registering voters. Examples of people that may need to re-register are people with address changes, name changes, or those that have been convicted of a felony but have served their sentence and finished their probation or parole.
Plan ahead. Train a group of people from your congregation. Order materials. Secure and get permission to use locations such as local fairs, a grocery store, the library, and be sure to complete your events before the registration deadline in your jurisdiction.
Use voter registration drive toolkits for guidance. Here are two examples:

Get Out the Vote
Registering voters is one big step. Following up to encourage voters to go to the polls or submit their absentee ballots is another important step.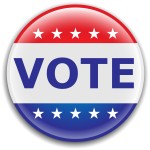 At your voter registration events, ask registrants if:
they would like to be contacted closer to Election Day with a reminder to vote.
if they need assistance getting to the polls on Election Day.
Keep records of registrants' names, addresses, and contact information in order to support their participation in voting on Election Day. Recruit and schedule volunteers to make reminder phone calls and follow up with those that need transportation assistance on Election Day.
And take advantage of the UUSJ Mobilizing Voters for the 2016 Elections Toolkit.
Host or attend a candidate forum
A candidate forum is a public event where candidates running for office are invited to meet community members and express their positions on issues. Whether for a local, state, or federal election, a candidate event is a great way to engage your community, to build support for the issues that matter to your congregation, and to learn more about the candidates running to represent you.
Here are examples of guides for organizing a successful candidate forum:
Whether you are organizing or attending a candidate forum, it's important to be clear about the social justice issues that are of concern to you and your congregation and prepare questions ahead of time.
Research and stay informed
Leading up to Election Day, prepare yourself on the candidates and issues that will be on the ballot in your area. What are the candidates' positions and track records on the social justice issues you care about?
Learn about the current threats to democracy and voting rights. What impact do voter suppression tactics such as voter ID laws, elimination of early voting and proof of citizenship requirements have and where are they being used? What are violations of the National Voter Registration Act? What's being done to end voting discrimination?
Join UUs for Democracy Google Group to be in contact with UUs in the greater Washington, DC area on voter rights, registration, education and mobilization leading up to Election Day 2016. Contact Elizabeth Stevens, UUSJ Administrative Assistant, at info@uusj.org to join the group.
Use UUSJ's Write Here! Write Now! toolkit to organize letters from members of your congregation to communicate with candidates.
Schedule a UUSJ advocacy training session for your congregation. Contact Elizabeth at info@uusj.org.
---
Community Resources
---
Updates: News & Meeting Notes
Small But Mighty: UUSJ Voter Mobilization Proves Itself – December 15, 2016
Mobilizing Voters for the 2016 Elections Meeting Notes – August 27, 2016
UUSJ eNews – August 1, 2016
UUSJ eNews – September 1, 2016
UUSJ eNews – October 1, 2016
UUSJ eNews – October 15-31, 2016
UUSJ eNews – November 1, 2016
UUSJ eNews – November 16, 2016