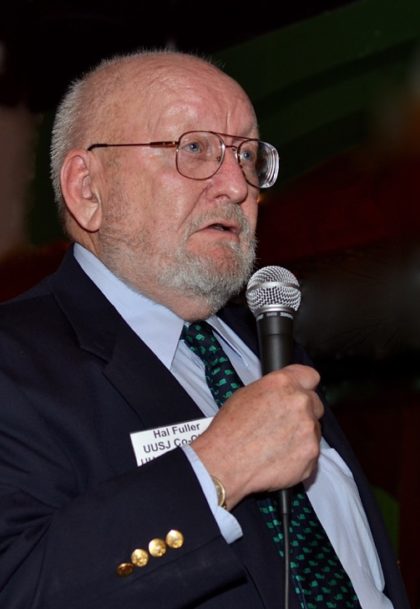 Our friend and colleague Hal Fuller died on September 26. Here's a message from Lavona Grow, who served with Hal as UUSJ co-chairs.
We just learned that Hal passed away after collapsing at his home in Fairfax. He recently returned to his Virginia home after his annual stay at his home in New Mexico.
Hal was a member of the Fairfax church and former UUSJ Board member. He recently said he was looking forwarding to becoming involved again with UUSJ and recently re-joined the immigration task group, which he helped launch years ago.
Some of you may know Hal as the chair of the UUSJ immigration grant advisory group, which he formed after UUSJ received a UU Funding Program grant, which he helped write. After his most recent position as UUSJ co-chair Hal spent much of his time and energy as one of the key organizer of the Greater Washington Immigration Film Festival.
For those that did not know him well, Hal was a UUSJ co-chair several times during his on and off involvement with UUSJ over more than 19 years including during the two-year planning period to help conceptualize and launch UUSJ.
Hal was a big picture thinker but also was able to focus on the details. He was an excellent writer (and grant writer), great at preparing budgets, job descriptions, development and strategic plans. Hal had a passion for social justice work and making things happen.
He will be missed.
In faith,
Lavona
There will be a memorial service for Hal Fuller on November 11, 2:00pm at the Unitarian Universalist Congregation of Fairfax.