LGBTQ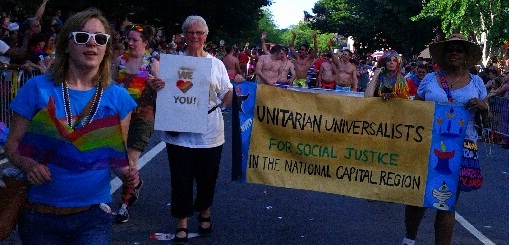 LGBTQ Rights is one of UUSJ's chosen priority issues.
We work with the Unitarian Universalist Association, the Standing on the Side of Love Campaign, Equality Maryland, Equality Virginia, and the Human Rights Campaign.
In the past, UUSJ has worked toward marriage rights for gay and lesbian couples.  Maryland and DC now have same sex marriage and the federal Defense of Marriage Act has fallen. Many Unitarian Universalists volunteered at phone banks, wrote and called legislators, wrote op/ed pieces, and attended rallies to win these successes.  Unitarian Universalists continue to work for marriage rights in Virginia.
UUs have worked for rights for persons who are transgender.  The Fairness for All Marylanders Act passed in 2014.
UUSJ has helped with communication to connect UU participants and volunteers at the Capital Pride Parade and Festival.
At the federal level Unitarian Universalists are still involved in advocating for discrimination protections at work, in housing and in public accommodations for lgbtq individuals.
Welcoming Congregation Program
Many of the member congregations of UUSJ are certified as Welcoming Congregations by our denomination the Unitarian Universalist Association (UUA.org), you can click here to find out more about this program, an important part of our faith.