Action for Immediate Witness Events – Act for a Livable Climate
UU Climate Action at the General Assembly, in Washington DC, Paris, & Beyond!
---

UUSJ and UU congregations across the country are taking action by participating in the Week of Moral Action for Climate Justice during the Pope's visit.

The list below includes some of the opportunities for participation in various climate justice events in September in Washington, including those of special interest to UUs, such as the Global Solidarity Fast, UU ingathering service and procession to the Interfaith Prayer Vigil the evening before the Pope's address to Congress, gathering together before and after the Pope's address (at 9:20am), and a UU Climate Justice Celebration on Sept. 25.

*IMPORTANT UPDATE*: We have determined a location for UUs to gather on the mall for the People's Rally for Climate Justice on Friday, September 24. Please check out the map and see the Tip Sheet for details about traffic, what not to bring, and a picture of our "UU Ask Me" hats.

Not able to make it to the events in Washington, DC? You can still add your voice to this week of moral action by hosting a solidarity event in your community. Register your faithful event with the Franciscan Action Network and add it to the Moral Action on Climate map of solidarity events. You can also use the Commit2Respond event page to publicize your event.

---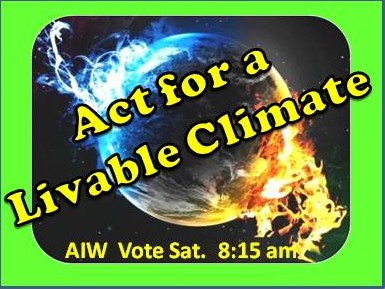 The Action for Immediate Witness (AIW) – Support a Strong and Compassionate Global Climate Agreement – Act for a Livable Climate was recently passed at the 2015 General Assembly. AIW addresses why UUs need to show leadership and urges government to "support a strong and compassionate global climate agreement" at the United Nations Climate Change Conference in Paris. We must start with our individual and congregational actions to fully educate, energize, and amplify the moral consequences of climate change.
Future activities will include advocacy to take the climate justice message to policy-makers in Washington, DC and state capitals. UUSJ is planning a Write here! Write now! letter writing campaign in mid-November to support the EPA's Clean Power Plan.
Please check back often. Details subject to change.
Updated on 9/17/15
Date
Event Title
Time
Location
Details
September 14-23
UU Service: September 18
10 Day Global Solidarity Fast
6:30pm
every night
McPherson Square, Washington, DC
People are gathering for a fast in advance of Yom Kippur and Pope Francis' address to a joint session of Congress. UUs are supporting this event, organized by the Franciscan Action Network. #FastforClimate

Join us on Friday, Sept. 18, for a 30-minute UU service, led by Rev. Cyn Snavely, Minister of Goodloe Memorial UU Congregation of Bowie, MD to support Marti Mckenzie, a faster from Towson UU. Please join in support.
September 20
Movie Screening: Revolution
6:30-9pm
UU Church of Silver Spring
Revolution is not just about the environment, it a film about hope and inspiration. It's a call-to-action with an uplifting message that tells us it's possible to alleviate the damage already done. It's time for a Revolution.

Watch Sister Eden's film review.

Purchase tickets here. ($6.50 ahead of time, $8.50 day of, $10 at the door)
September 23
Inspirational Climate Gathering
3pm gathering, 4pm service
All Souls Church Unitarian
Washington, DC
Metro: Columbia Heights
Gather with UUs and local congregations for hospitality and an inspiring service at 4pm. Snacks will be served before we depart around 5:30pm for the interfaith vigil. There will be an opportunity to walk together in procession (3.3 miles, 65 minutes of walking) welcoming all en route to walk together to the Interfaith Prayer Vigil.

RSVP here.
Processional flyer
September 23-24
Interfaith Prayer Vigil
7pm-7am (overnight)
John Marshall Place Park
near Pennsylvania Ave. & 4th St, NW
Metro: Archives-Navy Memorial, Judiciary Square
There will be an opening ceremony (7-9pm) with a Call to Action led by various faith leaders, including Rev. Dr. Linda Olson Peebles, Faith in Action Minister of UU Church of Arlington, VA. Then the vigil will be lead by different faith groups each hour up to to the People's Rally at 7am. UUSJ is sponsoring one hour of prayer during the vigil immediately following the opening ceremony, around 9pm, led by Rev. Phyllis Hubbell, Co-Minister of UU Church of Loudoun, VA. There will also be two musical groups leading us in song, SongRise and Spice.

There will also be faith and civic leaders offering messages of hope, justice, and peace, and music interspersed throughout.
September 24
People's Rally for Climate Justice
7:30am-12:30pm
National Mall
between 3rd & 7th St, NW
Organized by Moral Action on Climate, thousands of people will gather on the National Mall raising up the message of the recent Papal Encyclical that acknowledges the moral significance of climate change. Pope Francis will address Congress at 9:20am.

The rally will feature leaders from faith, social justice, and environmental communities, with music and performance until 12:30pm, including Rev. Dr. William Barber, Pastor of Greenleaf Christian Church and architect of Moral Monday, and Moby, songwriter and musician. Rev. Rob Hardies, Senior Minister of All Souls Church, Unitarian in Washington, DC is tentatively speaking at the event.

All Unitarian Universalists and allies will gather and attend the rally as a collective block. Please consult this map for the location.

Please wear your Standing on the Side of Love t-shirts or yellow shirts/or something yellow. Read our Tip Sheet for info about what not to bring and travel tips.
September 25
Earth Celebration (Flyer)
6:30-10:30 pm
Cedar Lane Unitarian Universalist Church
Bethesda, MD
CLUUC will host UUs for an intergenerational gathering. Rev. Fred Small, UU minister from Cambridge and an environmental activist, and Rev. Abhi Janamanchi will lead an Earth Ceremony with music. Together we will build a Mandala, a symbol of wholeness. From 6:30-7:30pm enjoy earth friendly finger foods, and join Cedar Laner, Chris Mauro, for a drumming circle and dancing.

RSVP to mollyphauck(at)gmail.com

Please bring a vegetarian finger food or dessert. Contact: Christiane Graham, 301-949-2624 or chraham73(at)verizon.net.
Help us spread the word by downloading and sharing our flyers with your UU congregation.
Recent Highlights
Unitarian Universalists for Social Justice deliver a letter from UUA President Morales to the State Department saying "Climate change is the gravest danger facing humanity today." Read the full letter here.
What the Pope's Encyclical Means for UUs and Everyone Else – Rev. Terry Ellen, former UUSJ Executive Director