Significant Collaboration and Advocacy Activities
UUSJ Highlights: Following are significant highlights of collaborative witness and advocacy activities, meetings, and programs focused around UUSJ's issue priority areas (immigration, environment/climate change, economic justice and LQBTQ rights) listed in reverse chronological order.
Engaged more than 30 UUs who joined the new UUSJ Capitol Hill

Advocacy Corps

launched in February

to make monthly visits to convey UU views on priority issues

Trained more than 100 people in our new

Citizen Engagement and Advocacy trainings

at five area UU congregations

Co-sponsored with UUJEC a

3-day national conference on "Reversing Inequality – Healthcare Justice is a UU Value."

Featured presenters included:

Rep. Ami Bera (CA-7)

, the only UU in Congress;

Sister Simone Campbell

of "Nuns on the Bus" fame; and

Chuck Collins

, a UU and noted author on tax-policy

Partnered with UU Ministry for Earth, Commit2Respond, and UUs for a Just Economic Community (UUJEC) to conduct "

Write Here! Write Now"

letter-writing campaigns on climate justice, healthcare and economic inequity

Delivered 1,000+ UU letters

to members of Congress on immigration, climate justice, healthcare, and the federal budget

Collaborated with UUJEC to conduct

three health and two tax policy webinars

Organized and mobilized UUs with nine partner congregations for

2016 Voter Registration and Get Out The Vote,

the only regional UU multi-state action, supported with a grant from the UU Funding Program (UUFP)

Hosted two

briefings on intersectionality of racial and climate/environmental justice

to strengthen our ability to "connect the dots"

Coordinated

the meet-up location for UUs during

Women's March on Washington
Organized and mobilized

UUs during

People's Climate Movement

march in April and held a "Write Here! Write Now!" letter-writing campaign

Collaborated

with Washington Inter-religious Staff Community (WISC) Ecology and Environment, Virginia Coalition of Latino Organizations, CASA, Friends Committee on National Legislation, NETWORK Lobby, Americans for Tax Fairness, National Nurses United, Steelworkers Union, UU Ministry for Earth, UUA, UUSC and others

Collaborated with UUSJ member congregations and provided substantive response to draft

Statement of Conscience on Escalating Economic Inequity

and participated in General Assembly (GA) debates

Conferred with

Coalition of UU State Action Networks'

(CUUSAN) leadership at GA to discuss collaboration and covenantal agreements

Exhibited at GA

to

engage attendees in healthcare letter-writing and advocacy opportunities

at the federal level

Organized and presented a

breakout session at the GA Climate Justice Collaboratory

on federal and state advocacy opportunities

Joined with DREAMERS

groups, organized by National Korean American Service and Education Consortium and others, including UUA and UUSC, to endorse, mobilize and support the 22-day DACA and TPS White House Vigil; provided dinner to vigil crew on "UU Day" on Sept. 3

Reached more than 1,200 people in the national capital region and nationwide through our

monthly electronic newsletter

, designed to inform and

promote UU participation in educational, witness and advocacy opportunities

on key issues

Worked to amplify UU voices at the federal level. The UUSJ Board voted to expand our federal advocacy work on behalf of UUs nationwide. We received a grant from UUFP to expand capacity for UU advocacy in the nation's capital
November 14, 2017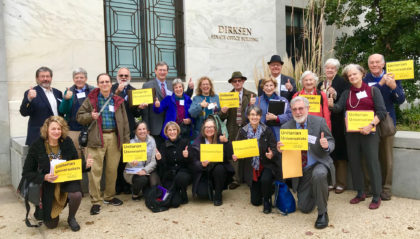 UUSJ Advocacy Corps Lobbying for a Clean Dream Act
The Advocacy Corps, bringing a UU voice to Capitol Hill, lobbied 55 Senators in support of a clean Dream Act, one without harsh border enforcement provisions or increased deportation provisions preferably by year's end but certainly before the March 18 deadline set by Mr. Trump. Over a hundred letters were delivered to their senators by UUSJ on behalf of UU's from all over the country. Over 20 local UU's participated and were divided into seven teams.
IT IS VITAL that we continue urging our senators to pass a clean Dream Act without delay. It is especially for those represented by GOP senators.
October 29, 2017
2017 UUSJ Social Justice Awards Celebration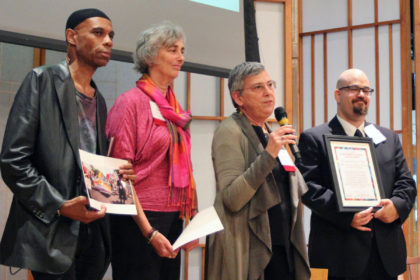 Members and friends of the UU community gathered at Cedar Lane UU Church for UUSJ's bi-annual awards celebration. The event brought together UUs recognizing the outstanding projects and activities at seven different congregations. Since its first Awards Gala in 2007, UUSJ has honored individuals and congregations who are working to build a better world through social justice activities that support UU values.
See our website for a list of awardees
, and
view photos of the event in our Flickr album
.
October 10, 2017
Advocacy Corps delivers letters on Tax and Budget Reform
The Advocacy Corps delivered letters expressing UUSJ concerns on Tax and Budget Reform and Escalating Economic Inequality.
September 26, 2017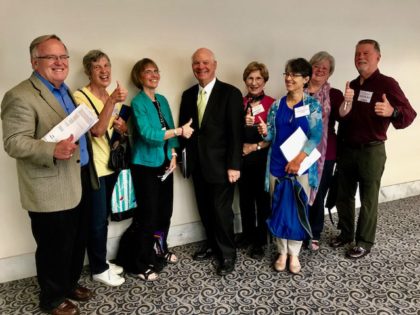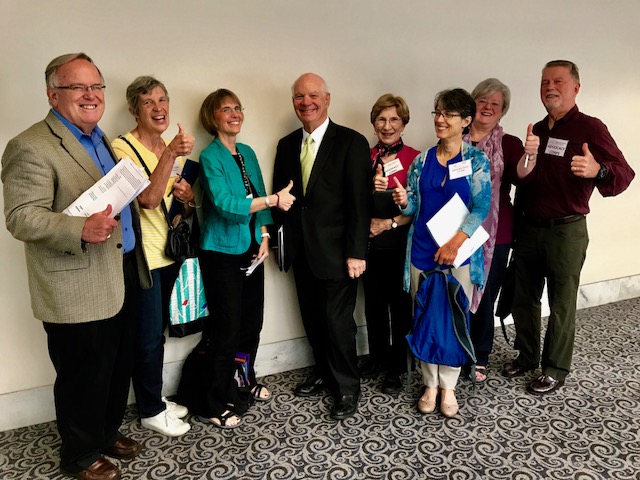 Advocacy Corps reaches Senators about Healthcare Legislation
The Advocacy Corps delivered letters expressing UUSJ concerns on pending healthcare legislation, urging bipartisan collaboration for accessible, affordable, and quality healthcare, to 33 senators' offices, including Senators Susan Collins, Lisa Murkoswki, and John McCain.
September 3, 2017
UUSJ joins groups supporting DREAMERS
Organized by National Korean American Service and Education Consortium and other organizations, including UUA and UUSC, we endorsed and mobilized UUs to support the 22-day DACA and TPS vigil in front of the White House; provided evening meal for vigil crew on "UU Day".
September 2017
UUSJ Continues Support of TPS
UUSJ continued its support of Temporary Protected Status (TPS), as a core American and faith value put into action via policy. The policy affords 300,000 people temporary protections, work authorization, and a shield from deportation to countries of their nationality where they would face to disease, violence, starvation, the aftermath of natural disasters, and other life-threatening conditions, or other extraordinary circumstances. Read the draft letter.
August 9, 2017
UUSJ Objects to the RAISE Act together with Interfaith Community
UUSJ signed on to a letter joining Interfaith partners, including the UUSC and UUCSJ, against scaling back legal immigration and family reunifications. The Reforming American Immigration for a Strong Economy (RAISE) Act would deny millions fleeing tragedy and travesty the chance to reunite with family by capping refugee admissions at 50,000 per year. The Act sets the lowest resettlement goal in U.S. history, during a global refugee crisis. Since 1980 and the Refugee Act, the average annual goal has been 95,000, and the average resettled 80,000. Read the letter.
August 2017
UUSJ Thanks Key Senators

Bob Denniston, UUSJ Board Chair, delivered personalized thank you letters to Senators Collins (Maine), Murkowski (Alaska), and McCain (Arizona) for their courageous stands against the Senate's healthcare bill last month. UUSJ's Advocacy Corps has been encouraging senators to hold out for accessible, affordable and quality healthcare since April, and has delivered more than 600 letters from UUs across the country to their members of Congress. That includes Pat Behanna of Paint Branch UU Church, who brought 31 letters from her congregation members on healthcare for delivery to Maryland senators. Watch a video of Pat telling us why this is so important.
May 9, 2017
UUSJ Advocacy Day
13 people joined the UUSJ Advocacy Corps and delivered 575 letters to Capitol Hill written by UUs from 13 states, along with petitions signed by 270 UUs from across the nation gathered during the Peoples' Climate Movement March on Earth Day. The focus of the letters and petitions was support for federal agencies that address climate change and related issues, including the Chesapeake Bay restoration project. The Advocacy Corps visits Capitol Hill monthly.
May 1, 2017
CASA and the Virginia Coalition of Latino Organizations organized local participation in nationwide marches. Participants—starting at the Arlington Courthouse Plaza and DuPont Circle—converged on the White House in support of immigrants and workers and to protest the harsh anti-immigrant rhetoric and cruel immigration policies of the Administration. If you attended the march, please let us know and send us your photos to include on our website and eNews! (Email Elizabeth at info@uusj.org.)
April 3- 5, 2017
From left: Pablo DeJesus, UUSJ Executive Director,
Congressman Ami Bera (CA-7), and Rachel Bennett Steury, UUJEC
Success at the "Reversing Inequality—Healthcare Justice is a UU Value" Conference
Over 60 UUs from 16 states attended the conference, hosted by UUSJ and the UUs for a Just Economic Community, and took part in advocating with members of Congress on the implications of inequality decisions about our healthcare system. UU congregations in 18 states wrote a total of 407 letters, which were delivered to their senators and representatives by the conference attendees. Some testimonies from the conference:
"I liked not only the presenters, but the connections we made with each other."
"I learned a lot and actually doing real lobbying gave me a sense of purpose and made it feel worthwhile."
"Inspiring and made me feel like a participant in democracy."
April 29, 2017
UUSJ at the People's Climate Justice Movement
Around 100 UUs joined 200,000 people from all over the country and converged on Washington, DC for the People's Climate Movement and marched for climate, jobs, and justice. After pre-march fellowship and street art in the morning, UUs set out under the banner of "the seas are rising and so are we" to join others in the Keepers of Faith contingent. In order to build a sustainable UU climate justice movement, All Souls Church, Unitarian hosted around 70 UUs at their UU Fest after the march and held special climate justice Sunday services with guest preacher, Johnnie Aseron of the Inter-National Initiative for Transformative Collaboration. After the second service, over 30 UUs took advantage of more opportunities for movement building with a UUSJ and Commit2Respond Write Here! Write Now! letter writing campaign, the nationwide launch of the Carbon Footprint Game, and a panel and discussion on climate justice for frontline communities.
April 11, 2017
Family Advocates Joined UUSJ Advocacy Corps on the Hill
Family advocates and the UUSJ Advocacy Corps visited US Senate offices on April 11 to discuss healthcare reform, specifically Medicaid and the Children's Health Insurance Program, which together cover one in three American children. Twelve Advocacy Corps members from six congregations, and Rev. Archene Turner and families from Cedar Lane UUC, visited 50 Senate offices and delivered some of the 407 letters that came from congregations around the country for the UUSJ/UU Just Economic Community conference, Reversing Inequality: Healthcare Justice is a UU Value.
March 2017
UUSJ Cedar Lane Seminary for a Day
UUSJ's Pablo DeJesus (pictured left) and Lavona Grow delivered a "how-to" workshop to area UUs and other denominations on the essential techniques for conducting advocacy in the federal forum. During the seminary over 120 participants heard the call of Rev. Jacqui Lewis and Rev. Abhi Janamanchi to engage in revolutionary love, and sustained resistance in these challenging times, and 25 of them felt called to receive our guidance on how best to be resilient through advocacy.
February 14, 2017
UUSJ's New Advocacy Corps Visits Capitol Hill
UUSJ's Advocacy Corps made its inaugural visit to Capitol Hill on Valentine's Day, involving 18 members from seven area congregations who visited Maryland's Senators Cardin and Van Hollen and Virginia's Senators Warner and Kaine. Participants delivered nearly 200 handwritten letters expressing gratitude and concerns. A major purpose was to establish relationships with key senate staff and discuss UUSJ concerns on immigration and climate justice issues, which are UUSJ priorities, along with escalating inequality. UUSJ's Advocacy Corps plans regular monthly visits to Capitol Hill on the second Tuesday of the month and welcomes additional members.
February 2, 2017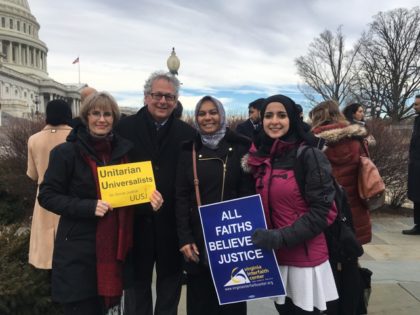 UUSJ at Capitol Hill Press Conference for Reintroduction of the Freedom of Religion Act
Lavona Grow, UUSJ's Past Board Chair, stood with Jews, Muslims, faith leaders, ACLU and represented UUSJ and the Unitarian Universalist's Association at the press conference announcing the reintroduction of the Freedom of Religion Act in response to the shameful executive order banning people from certain Muslim majority countries. Rep. Don Beyer (8th VA) reintroduced the bill to show that Americans still stand for religious toleration and against President Trump's executive order calling for extreme vetting. Khizr Khan, whose son Humayun was killed while serving in the U.S. Army stood alongside Beyer during the news conference.
January 21, 2017
In Solidarity, We Marched on Washington; Now We Must Fight for UU Values!
UUs from across the country came to Washington, DC on January 21 to march for the inherent worth and dignity of every person alongside about 500,000 other activists. The UU contingent, partially organized by UUSJ and the UUA, was a visible presence and contributed to the energy of solidarity at the historic Women's March on Washington.
Pictured right: Rev. Rob Hardies, All Souls Church, Unitarian; Rev. Abhi Janamanchi, Cedar Lane UUC; Taquiena Boston, UUA, Dir. Multi-Cultural, Growth and Witness Ministries
January 2017
UUSJ Launches Advocacy Corps
UUSJ launched an Advocacy Corps that will make regular visits to Members of Congress and their staff to join UUSJ on priority issues of immigration, climate change and the environment, and escalating income inequality, among other UU issues. The UU liberal religious voice is critical to be heard, especially in light of concerns that progress made in these areas will be turned back by the 115th Congress and new Administration. Read more…
December 12, 2016
Chuck Collins explains his views on how to remedy extreme economic disparities, at The Potter's House in Washington, DC during a discussion of his new book,
Born on Third Base.
UUSJ Hosts "Escalating Inequality" Expert and Author Chuck Collins
UU and noted expert Chuck Collins urged a "holding action" to avoid economic setbacks that would harm the most vulnerable, while pushing for policies such as a minimum wage increase that would help reduce inequality, during a discussion with 24 UUs from the area at the UU Church of Arlington, VA. He explained how his family history of wealth informed his perspective for his new book, Born on Third Base. The following evening more than 40 persons joined a discussion and book-signing, cosponsored by UUSJ, Sojourners magazine, and the Institute for Policy Studies, to learn his perspective on how to remedy economic disparities in these uncertain times.
December 10, 2016
Workshop participants teamed up to discuss the most effective ways to reach elected officials.
Mount Vernon UUs Host UUSJ Advocacy Training Workshop
With growing interest of many UUs to increase their influence on public policy, Mount Vernon Unitarian Church hosted a 3-hour Advocacy Training Workshop on December 10. The 17 participants learned how to become more effective advocates through discussions and role-playing, with special focus on the importance of research in their preparation. In the photo, small groups discuss the most effective methods to influence elected officials and how to convey their messages persuasively. Lavona Grow and Anna Rhee of UUSJ served as trainers for the Workshop. Congregations interesting in hosting a workshop should contact UUSJ through Elizabeth at info@uusj.org.
December 7, 2016
UUSJ Immigration Task Group Members Discuss "Mandatory Bed Quotas" on Capitol Hill
In the latest of a series of meetings on Capitol Hill, five members of the Task Group met with staffer Samantha Price of Rep. Delaney's (D-MD 6th District) office on December 7. The primary purpose of the visit was to confirm the Representative's continued opposition to the statutory quota that the U.S. Immigration and Customs Enforcement (ICE) has to hold an average of 34,000 individuals in detention on a daily basis. This quota has been inserted in the appropriations bill annually, and a strong effort is required to keep this from happening in the March 2017 markup of the bill. Samantha expects that Rep. Delaney will be once again be part of such an effort in the House. Read the UUSJ letter…
December 3, 2016
UUSJ Convenes Briefing on Congregational Study Action Issues
Sean Barnett, formerly of Move to Amend, explained the efforts to overturn the Supreme Court's decision on Citizens United and to get money out of politics, at Bring It Home to Your Congregation: UUA Congregational Study Action Issues (CSAI) Briefing on Dec. 3. Attended by 26 persons representing many of the UU congregations in the National Capital Region, the briefing reviewed the two current CSAIs, Escalating Inequality and the Corruption of Our Democracy. Details on these CSAIs and the deadlines for congregational response can be found on the CSAI resources page.
November 15, 2016
UUSJ Capitol Hill Visit: Immigration Detention Bed Mandate
Members of the UUSJ Immigration Task Group met with staff of Rep. Ted Deutch, Florida 21st District on November 15. Rep. Deutch is a strong supporter of the elimination of the "Immigration Detention Bed Mandate." The U.S. Immigration and Customs Enforcement (ICE) has a 2009 statutory mandated quota to hold at least 34,000 individuals in detention on a daily basis. UUSJ seeks the elimination of the mandate. Read the letter and learn more about the mandate…
November 3, 2016
UUSJ Delivers UUA Letter on COP 22 Deliberations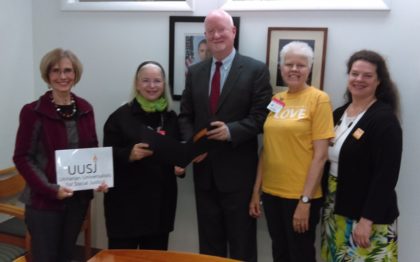 On November 3, UUSJ members and supporters Allen Keiswetter and Lavona Grow of UU Church of Arlington, Rev. Dr. Rebecca Parker, Susan Rogers, and Doris Marlin of All Souls Church, Unitarian, delivered a letter from the UU Association President, Rev. Peter Morales, urging the US to encourage other nations to be more ambitious in addressing climate change.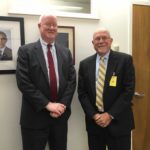 The letter was officially received by Shaun Casey, US Special Representative for Religion and Global Affairs, at the US Department of State, who said, "All religious communities are coming together on climate Justice…It's up to faith-based organizations to persuade the American public. We need to be more creative and remain diligent because you are uniquely poised as faith-based organizations to have that moral conversation." Read the letter…
October 20, 2016
UUSJ Fall Cider Fest
Over 80 members, supporters, and friends came out for our Fall Cider Fest on Sunday, October 31 at the UU Church of Arlington. Attendees enjoyed live music by the All Souls Bluegrass Band and connected with social justice friends over delicious cider, beer, and finger foods.
June-November 2016
Mobilizing Voters for the 2016 Elections & Get Out the Vote (GOTV)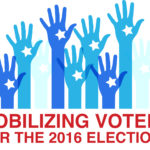 The April Democracy Spring and Democracy Awakening activities energized UUs and provided a platform for action to eradicate injustice in our society. UUSJ co-sponsored a voting rights webinar on June 1 with UUA that addressed faithfully strengthening democracy, registering voters, Getting Out the Vote, protecting voting rights, election protection, speaking out on our values, and developing community and congregational partnerships.
Through a special grant from the Fund for Unitarian Unitarian Social Responsibility, UUSJ developed a regional voter education, voter registration and Get Out the Vote program leading up to the November elections. Seven congregations signed on to partner with us and will send representatives to the project leadership team:
All Souls Church, Unitarian, DC
Unitarian Universalist Church of Arlington, VA
Bull Run Unitarian Universalist Congregation, Manassas, VA
Cedar Lane Unitarian Universalist Church, Bethesda, MD
Mt. Vernon Unitarian Church, Alexandria, VA
Unitarian Universalist Congregation of Rockville, MD
Towson Unitarian Universalist Church, Lutherville, MD
Learn more about the ways UUSJ and UUs participated in Get Out the Vote activities and engaged with candidates running for public office on our Mobilizing Voters for the 2016 Elections page and our Schedule of Volunteer Opportunities.
September 2016
UUSJ Position Paper: DAPA and DACA
By Dean Wanderer, UUSJ Immigration Task Force
UUSJ strongly endorses a path to citizenship for millions of these law-abiding people in this country. UUs must work to move Congress to enact comprehensive immigration reform to address the needs of the 11 million undocumented individuals present in the United States. Read more…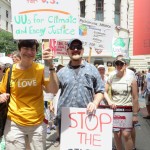 July 24, 2016
Clean Energy March, Philadelphia
UUs were well represented in Philadelphia at the Climate March prior to the Democratic Party Convention. According to Christiane Graham of Cedar Lane UU Church, "We made our voices heard asking for real climate protection legislation. It was heart-warming to see so many young and old, black, Asian, Hispanic people demonstrate together, asking for a livable planet." Read more of her reflection on the event…
May 4, 2016
Let Hope Bloom: End Family Detention
in celebration of Mother's Day, UUSJ joined the UU Service Committee and other nonprofit organizations to call to
end family detention and to honor the courage and sacrifice of Central American refugee moms by giving them flower bouquets and certificates. Giant Mother's Day cards were signed by mothers, their children, and over 1,300 UU supporters, which were then delivered to two White House officials at the West Gate. The cards were addressed to four mothers at the White House: First Lady Michelle Obama, Second Lady Dr. Jill Biden, Senior Advisor Valerie Jarrett, and Obama Assistant Cecilia Munoz. Anna Rhee, Lavona Grow, and John Gubbings of UUSJ helped create and deliver the cards.
May 2016
Interfaith Community Advocating for Green Climate Fund
Organized through the initiative of UUSJ, 17 representatives of the interfaith community met with representatives from the Office of Religion and Global Affairs, US Department of State and the Treasury Department to discuss the challenges facing the Green Climate Fund, accreditation of organizations with first-hand knowledge of community needs, environmental and social safeguards in funded projects, and information sharing.
April 16-18, 2016
Democracy Spring & Democracy Awakening

UUSJ and UU congregations in the National Capital Region were involved in every aspect of Democracy Spring and Democracy Awakening in Washington, DC. Together we hosted out of town visitors, organized teach-ins, marched, sang, lobbied, and got arrested at the Capitol all to support the demands that our Congress do its job by passing legislation to curb money in politics, restore voting rights, and hold hearings on a new Supreme Court justice.
UUs supported the Democracy Spring marchers on their walk from Philadelphia to Washington by holding teach-ins at several local congregations to spread the word.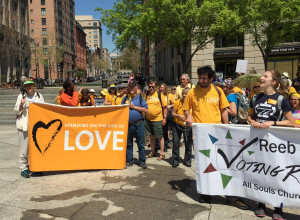 To kick-off Democracy Awakening, UUs and folks from across the country gathered at All Souls Church, Unitarian on Saturday, April 16, for workshops, teach-ins, and trainings that addressed the intersections of voting rights, money and politics, and many of UUSJ's priority issues. On Sunday, April 17, a mighty group of UUs from all around the DC area and a half dozen different states, wearing yellow shirts and waving banners, gathered at Navy Memorial Plaza to join the day of protests. At the end of the march, Rev. Linda Olson Peebles from UU Church of Arlington led a spirited rally of faith leaders in front of Union Station, calling for Congress to fix our broken system. All of the events on these days led up to Monday, April 18, where hundreds of people took part in an interfaith prayer vigil on the Capitol lawn before standing up for democracy through civil disobedience and meetings with Senators and members of Congress throughout the day. Rev. Rob Hardies, along with over a dozen others from All Souls Church, Unitarian took part in the day's action and were arrested for their civil disobedience.
April 15, 2016
Write Here! Write Now! A Toolkit for Letter-Writing Campaigns
UUSJ developed, field tested and disseminated the Write Here! Write Now! Toolkit for congregational letter-writing. The toolkit offers
congregation and issue advocates with a way to communicate with opinion leaders and policy-makers to advocate for positive change, or to express a point of view on public issues facing our community, state or nation. Our toolkit provides congregants with the process and materials to organize and plan a letter-writing campaign and let officials know how our faith and values compel us to seek a more just and sustainable world.
April 11, 2016
121 Religious Communities Urge Congress to Support the Green Climate Fund
UUSJ, the UU Association, and 119 other religious traditions and organizations, representing tens of millions of Americans across the nation, delivered a letter to the U.S. Congress, urging its support for the Green Climate Fund (GCF). The GCF aims to build the capability of developing nations to limit or reduce their greenhouse gas emissions through low carbon development pathways and to adapt to the unavoidable impacts of climate change. The letter asks Congress to appropriate $750 million for GCF for Fiscal Year 2017.
Update: On June 29, the Senate Appropriations Committee agreed to give $500 million to the Green Climate Fund in 2017. The House appropriations bill eliminated Green Climate Fund funding. Differences to be negotiated.
March 2016
Congregation-based advocacy training: "Citizen Activism: Everything You Need To Know"
UUSJ developed and delivered two beta tests–October 2015 and March 2016–of our new Citizen Activism advocacy training. Participants learned about the importance and impact of citizen activism, how to develop and deliver a clear message in personal meetings with policymakers, various ways to engage with policymakers and where to find resources for advocacy support. We plan to develop a train-the-trainers program.
UUSJ Capitol Hill Visits
December 17, 2015 – Representative Gerald Connolly (D-VA)
January 13, 2016 – Senator Tim Kaine (D-VA)
January 15, 2016 – Senator Mark Warner (D-VA)
January 20, 2016 – Senator Ben Cardin (D-MD)
UUSJ delivered letters expressing outrage at the Obama Administration's recent deportation of undocumented families and children to four elected officials and urged them to reject the Safe Act. Read the letter…
November 6, 2015
Green Climate Fund Action Alerts
UUSJ sent Action Alerts to its members and activists to contact the minority chair of the Senate Appropriations Committee about funding of the Green Climate Fund. In just two days, UUSJ generated more than 30 messages and an undocumented number of telephone calls.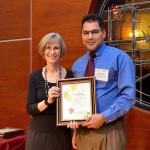 October 18, 2015
UUSJ Social Justice Awards Gala: Inspiring Ideas, Sharing Resources, Working and Celebrating Together
UUSJ held a Gala to celebrate the accomplishments of those working for social justice. The Social Justice Awards recognized those individuals and congregations who inspire, support and express effective social action – those deeply committed volunteers and ministers who are the heart of the social justice movement in the National Capital region. Awardees: Beloved Community Award – Carmelita Carter-Sykes, Paint Branch UU Church; Collaboration Award – Eric Goplerud, UU Congregation of Fairfax; Congregational Social Justice Program Award – Social Justice Committee, Accotink UU Church; Emerging Leader Award – Walter Ellis (pictured above with Lavona Grow, Board Chair), Cedar Lane UU Church; Emerging Leader Award – Kerridwen Henry, UU Congregation of Columbia; Environmental Award – Natalie Pien, UU Church of Loudoun; Lifetime Achievement Award – Gene Mulligan, UU Church of Arlington; and Special Recognition Award – Doris Marlin and the Act for a Livable Climate Team.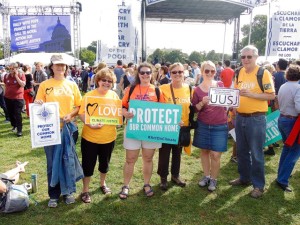 September 21-26, 2015
UUSJ organized several events during the Week of Moral Action for Climate Justice during the Pope's visit in September.
UUSJ helped organize and participated in climate justice events in Washington, including:
A 30-minute UU service on September 18, led by Rev. Cyn Snavely, Minister of Goodloe Memorial UU Congregation of Bowie in support of Franciscan Action Network's 10 Day Global Solidarity Fast
An Inspirational Climate Gathering on September 23 and a processession to the overnight Interfaith Prayer Vigil
An Interfaith Prayer Vigil with a Call to Action led by various faith leaders, including Rev. Dr. Linda Olson Peebles, Faith in Action Minister of UU Church of Arlington, VA. UUSJ also sponsored one hour of prayer during the vigil, led by Rev. Phyllis Hubbell, Co-Minister of UU Church of Loudoun, VA.
UU gatherings before and after the Pope's address and during the People's Rally for Climate Justice
An Earth Celebration hosted by Cedar Lane UU and led by Rev. Fred Small, UU minister from Cambridge and an environmental activist, and Rev. Abhi Janamanchi. Together we will build a Mandala, a symbol of wholeness.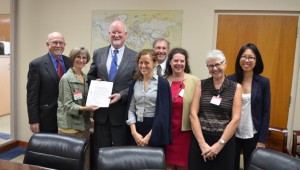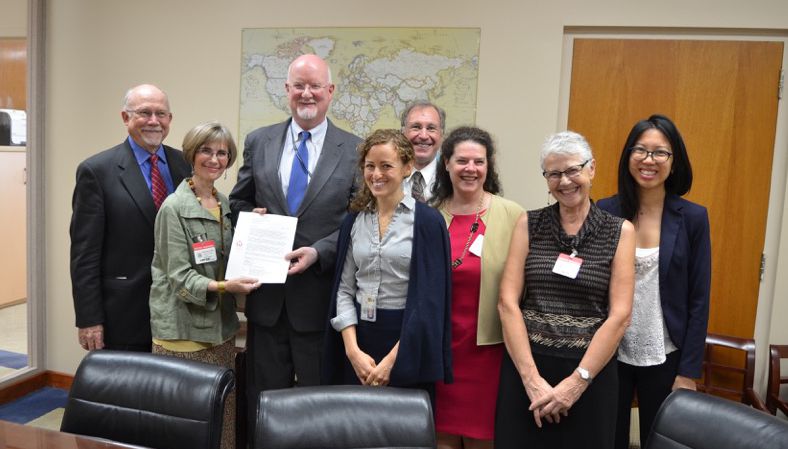 August 19, 2015
UUSJ delivered a letter from UUA President Morales to the State Department calling on the United States to step up as a leader at the Paris Climate Conference.
"Climate change is the gravest danger facing humanity today." So begins a letter from Reverend Peter Morales, President of the Unitarian Universalist Association, to the Honorable Todd Stern, U.S. Special Envoy for Climate Change. Members of UUSJ delivered this letter to representatives of the State Department, with copies delivered to the Honorable John Kerry, Secretary of State, and Shaun A. Casey, Office of Religion and Global Affairs. In a meeting that lasted over an hour they discussed the concerns expressed in Rev. Morales' letter and shared the Action of Immediate Witness, passed at the UUA General Assembly this past June titled Support a Strong, Compassionate Global Climate Agreement in 2015: Act for a Livable Climate. The letter calls on the United States to step up as a leader at the Paris Climate Conference. You can read the entire letter at this link.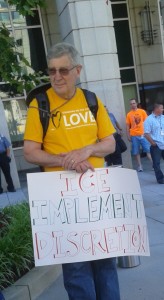 June 15 – 18, 2015
UUSJ Supports the National Fast to End Deportations: Fasting to Keep Families Together
UUSJ was approached by the First Unitarian Society of Denver, and the American Friends Service Committee for advice and support to organize an action in front of the Immigration, Customs and Enforcement (ICE) headquarters in Washington, D.C. to bring attention to the need for ICE officials to use their powers of discretion to defer deportation of undocumented immigrants. The effort grew into a national event of people showing solidarity with coordinated fasting across the country. The UUA Standing on the Side of Love and Church World Services joined the organizing efforts. UUSJ provided support in numerous ways including, home hospitality, organizing the opening gathering on Monday, June 15 with dinner and service for those fasting and organizers at the Universalist Memorial Church, in Washington, D.C., mobilized lay and ministerial support, arranged for a closing service and dinner on Thursday, June 18 as well as outreach for the events to area congregations.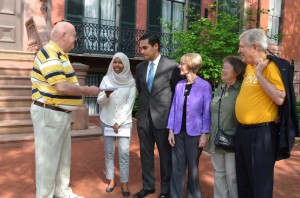 May 8, 2015
UUSJ Delivers Petitions to the White House in Orchestrated Action with the UUSC
The Unitarian Universalist Service Committee (UUSC) and members of the Unitarian Universalists for Social Justice in the National Capital Region (UUSJ) choreographed the delivery of 4,000 petitions to the Obama administration and U.S. Immigration and Customs Enforcement (ICE), Department of Homeland Security, to end its policy of jailing refugee children and their mothers in detention facilities in the Southwest.
Petitions were delivered simultaneously to the White House in Washington, D.C. At the same time, a coalition of interfaith advocates delivered the petitions to officials at the ICE field office in San Antonio, Texas.
The national petition states, "Jail is no place for children. It is morally unacceptable that hundreds of refugee children and their mothers are currently being imprisoned in detention camps in the Southwestern United States."
Watch a video to hear what the Rev. McEmrys, of UUSJ member Congregation UU Church of Arlington, has to say after after the delivery.
February 21 – March 23, 2015: Immigration Relationship Building: The Immigration Steering Committee has been focusing on relationship building and networking. February 21, David Strauss and Lavona Grow met with the Farmworkers Justice President and staff; March 17 visited Senator Kaine's staff; March 23 visited Rep. Van Hollens staff. Also met with the director of the Virginia Coalition of Latino Organizations; upon request of the UUA two Executive Committee members attended a Senate Briefing hosted by Church World Services on Deportation and ICE's prosecutorial discretion.
March 14, 2015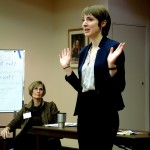 How to Make Your Climate Efforts Count: Lavona Grow, UUSJ Board Chair, worked closely with UU Service Committee's Pam Sparr to create a tailored program for our area UUs to launch the new Commit2Respond program and to conduct a strategy session with our area UUs. Pam became ill the week of our program and had to cancel her attendance but the program went forward with UUSJ volunteers. In spite of another day of bad weather, about 23 people participated. The meeting was held downtown across the street from where the annual young adults Spring Lobby Weekend (SLW) organized by the Friends Committee on National Legislation (FCNL) was taking place. This allowed us to take advantage of the kind invitation by Jose Aguto from FCNL to attend the opening and hear the program keynote speaker. About seven UU young adults attended the SLW. One of the attendees from North Carolina took us up on our invitation to join our morning meeting. Participating at the last minute and joining our UUSJ team of volunteer presenters was Kaeley Pruitt-Hamm, Advocacy Corp Coordinator from FCNL.
February 26, 2015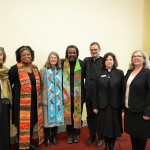 UU Service Committee (UUSC) Capitol Hill Briefing – Trouble on Tap: Challenges to Affordable Water in the U.S.: The UUSC briefing, sponsored by Rep. Conyers office, was a new opportunity for us to engage in witness and to provide support to the UUSC. The briefing – an economic and environmental justice issue – focused on water affordability and availability in the United States. Lavona, UUSJ Board Chair, worked closely with Pam Sparr, UUSC, to provide on-site support and to recruit ministers to "witness" and learn about the growing water problems facing major cities around the United States. Five UU ministers, with collars and stoles, came to witness and learn, and five UUSJ members attended and provided on-site support.
December 6, 2014: Briefing on Escalating Inequality Congregational Study Action Issue: Hosted a briefing on the new CSAI Escalating Inequality for area social justice chairs and representatives. following the release of the study materials. Jessica Helprin, from the UUA, and Susan Goekler, chair of the Commission on Social Witness were our guest presenters. The briefing was held at the Washington Ethical Society, about 32 people participated.
October 4, 2014: Program: A Wider Welcome, A Bolder Justice – Beyond Partisan Division: Presenter Revs. Anya and Scott Sammler-Michael. Approximately 25 participants.
September 2014 – June 2015: Regional Environmental Green Activists Meetings: UUSJ convened five meetings of the regional UU environmental community. Meetings are generally held quarterly and about 35-50 people participate.
September 21, 2014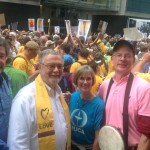 People's Climate March in New York City: Our mobilization began in early August as we invited participation and collaboration with Interfaith Power & Light to arrange three interfaith buses to take folks from the D.C. metro and Baltimore area to the march.
About 190 individuals participated with a few traveling one-way either to or from NYC with the group. Approximately 32 UUs from seven UU congregations traveled on our interfaith buses, and many more traveled on their own.
July 31 – August 2, 2014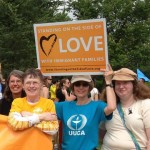 Pray for Relief – Stop Deportations: We collaborated with the UUA Virginia Coalition of Latino Organizations Group (VACOLAO), and UUA staff on the "Pray for Relief–Stop the Deportations White House Action" rally and arrests in front of the White House. The rally called on the President to stop the deportations of immigrants and end the unjust laws tearing apart families, communities and congregations. We promoted the event, provide home hospitality to many UUs from out of town, arranged an inGathering at the Universalist National Memorial Church for travelers to gather upon arrival from all over the country, provided dinner and arranged a worship service. We helped arrange and recruited drivers to pick up those people arrested from jail.
June 7-8, 2014 and June 13-14, 2015: Annual Capital Pride Parade and Festival: Assist in coordinating, promoting and recruiting UUs for participation in Pride weekend activities.
May 3, 2014: Program: Economic Inequality Matters – Moving Towards Fairness: Featured speaker and panel presentation; approximately 60 participants.
March – May, 2014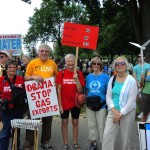 Cove Point, Maryland Proposed Fracked Gas Import Facility: In March 2014, twelve UUSJ members visited Maryland Senators Cardin and Mikulski's staff regarding proposed Cove Point, Maryland fracked gas export facility asking the senators to tell the EPA to conduct a full environmental impact statement on the effects to the region and Cove Point before making a ruling. We also promoted and participated in a rally held on the National Mall in May, 2014, to protest construction of the Dominion liquidation and export facility at Cove Point.
October 15, 2013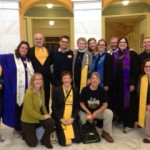 Capitol Hill Pilgrimage: We notified and mobilized more than 23 UU ministers and lay leaders to join on a Capitol Hill with other people of faith to call for the end of the government shut down. Faith leaders were led by Sister Simone Campbell to pray and sing on a Capitol Hill to encourage moderate Republicans act on behalf of the common good and get back to work. This picture show some of the UU contingent, most of whom are ministers, who joined in the pilgrimage.