UUSJ VISION                  
We envision a peaceful, just and environmentally sustainable world.
UUSJ MISSION
Our mission is to mobilize and amplify the voice of Unitarian Universalists in the National Capital Region  (NCR) as we seek to change the world through acts of love and justice.
UUSJ Delivers Petitions to the White House in Orchestrated Action with the UUSC
Friday May 8, 2015
The Unitarian Universalist Service Committee (UUSC) and members of the Unitarian Universalists for Social Justice in the National Capital Region (UUSJ) choreographed the delivery of 4,000 petitions to the Obama administration and U.S. Immigration and Customs Enforcement (ICE), Department of Homeland Security, to end its policy of jailing refugee children and their mothers in detention facilities in the Southwest.
Petitions were delivered simultaneously to the White House and to ICE Director Sarah Saldaña in Washington, D.C. At the same time, a coalition of interfaith advocates delivered the petition to officials at the ICE field office in San Antonio, Texas.
The national petition states, 'Jail is no place for children. It is morally unacceptable that hundreds of refugee children and their mothers are currently being imprisoned in detention camps in the Southwestern United States."
Rev. McEmrys, of UUSJ member Congregation UU Church of Arlington, speaks after the delivery.
UU Presence at Capital Pride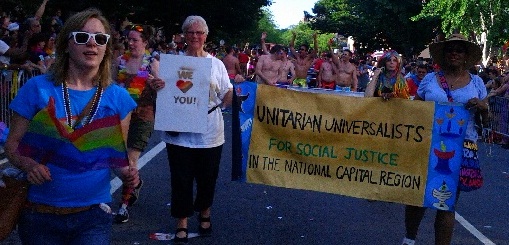 Saturday, June 13 and Sunday, June 14
Outgoing folks are needed to help run the UU Pride booth on Sunday. Volunteers are needed to handout printed information and answer questions. Also, active folks (regardless of gender/sexual identity) are wanted for walking in the Pride Parade on Saturday evening. Walkers will gather around 3:30pm and will walk for about 20 blocks until about 7:30pm.  Interested volunteers/parade attendees can RSVP by clicking here or by contacting Jenny McAtee at 240-595-2680(voice or text) or jenny(at)mcatee.com.